November, I'll be honest, was the longest short month of my entire semester. Not because of schoolwork, but because I watched people around me recover from at least five deaths, hold onto wishes and hopes that might not pan out, and just generally feel lonely. I'm hoping to bring them (and you all) a list to cheer your spirits.
Let's begin.
So Worth Loving. The organization will write that phrase all over your favorite, well-worn t-shirt if you mail it to them. I've been a follower since the summer, but just this week they launched their official website and they now have their own merch, so if you're not ready to give up your favorite item of clothing, you can buy something else.
Figment Fiction Short Story Contest. Figment's a YA writing community & forum (that my 14-year-old cousin and I fell in love with last December when we decided I needed to work there). The company's paired up with Seventeen Magazine & Scholastic for a short story contest and you only have to write 500 words. In fact, no exceeding that limit or you're DQ'ed. I entered and am hoping to be among the top 60 finalists, but obviously if you're a girl between 13 and 21 you best get your pen and paper and write your heart out for the contest, too.
Kerry's Victoria Secret post. I am not a VS basher, by any means, and my roommates actually ran in my room asking me to go to VS while I was reading this, but I think it's something that needs to be said. And I think Kerry's got a way with words. I'll preface it with this: you are not a model and we love you for that. You have curves and you should not starve yourself–your body is your fuel.
50 People, One Question – New York. OK, this video's legit three years old, but I just discovered it and found myself wanting to seek out these individuals and tell them how charming and real and honest they were for the camera. This project asks each stranger the same question: "What do you hope to happen by the end of the day?" The answers are almost as colorful as the beautiful souls on screen.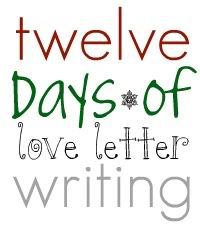 12 Days of Love Letter Writing. Hosted by the fabulous More Love Letters, the project's going on from Monday to December 17. One mini package (or giant, if you all get in on it) of love letters for each recipient will bring some warmth and comfort during this month and I'm giddy over the chance to write a letter for one of the days (so be on the lookout for that, too).
A Year in New York. This video is beautiful and I cannot say anything other than that. If you love the city, you will love tracking through it from the eyes of this filmmaker.
Thank you, I won't let you down. This post from Danielle LaPorte broke my heart and put it back together. It's inspired by a clip from an X-Factor audition and the girl in the video just shines with personality, voice, sass and, most of all, gratitude. This is what talent's all about, guys.
Coming Soon: I've developed a super secret list of seven wonderful women who—in 140 characters or less—have taught me a thing or two about life, love and growing up. December's posts (beginning on Monday) will be dedicated to unveiling each lesson, one at a time, and the woman behind it. Prepare for total inspiration.